Castle Ravenloft
- Index - Maps - Encounters -
- Domains of Dread - Contribute -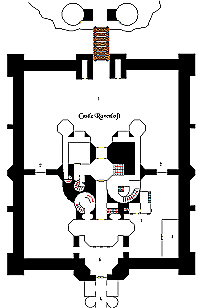 The map of Castle Ravenloft, included in the original Ravenloft adventure, and later reprinted in 'House of Strahd', is one of the best maps of castles that I have ever seen (castle Avernus, in Roots of Evil, comes second).
It has a good feel, a logical architecture, and plenty of details.
So why then, this map?
There are three reasons :
One, the original map is three-dimensional. While this is not necessarily bad, it means that sometimes the structure of the castle and the positions of the rooms is not always apparent.
Two, there are a few very tiny mistakes or ommissions in the map. For those who have the original map:
- Room 40 has windows that are not shown on the map. Five, to be exact.
- The stairways in map 10 are really Room 17, not 19.
- Not all statues and furniture were drawn in on the original map.
- Room 78 contains a brazier, not what appears to be a well. (There is a brazier-symbol, but it is not used)
Three, there is no player map. You would not normally need a player map, but it can be handy if you want to put your players on the wrong track, or if they press someone into drawing one.
And finally, sometimes it is useful to have an expendible map to doodle on (one you can always print again.)
Four reasons.
These pages contain the maps of Castle Ravenloft, In both player- and game master form. The maps are labelled following the adventure 'House of Strahd'. You would need either this or the original Ravenloft 'I6' adventure for the map key.

Reactions
Please send us any ideas, comments, or noticed mishaps by filling in this form.


Comments and suggestions regarding this site be sent to:
gomez@gryphonhill.com